Transport
All you really need is a modest, reliable vehicle so borrowing or using your savings to buy a more expensive one is not a good idea.
Get a car independently checked before buying it. Further information can be found at https://www.consumerprotection.govt.nz/help-product-service/cars/
Surveys of owners have shown that Japanese vehicles require fewer repairs than those from other countries. If you buy a make of car that is not common here, it could be difficult to get parts and if they are available, they could be very costly.
If you are forced to borrow in order to buy a vehicle, get a loan from a bank or credit union.  If you let a motor vehicle dealer arrange finance for you then you will end up paying far higher interest and a lot more in extra charges.
The annual cost of running a modest motor vehicle ranges from $3,000 to $5000.  This takes into account the following:
The reduction in market value each year
The loss of interest on the money used to buy the vehicle
The financing costs, if any
Registration and insurance
Running costs and repairs
If you can use public transport and a taxi from time to time, this is much cheaper than owning a car.
Those who live in a community where everything is within easy walking distance can save a lot of money by not owning a car.
Avoid owning two cars unless this is essential.
Instead of making a trip whenever you think of something you need, make a list and only go out when this is necessary.
If children walk to school they will be happier and healthier and you will save time and money.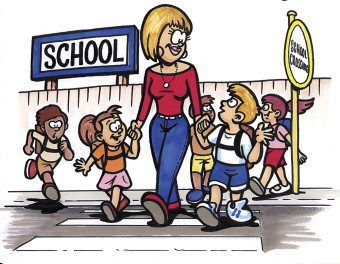 "Walking Bus"
If you are careful and willing to take some risk you can accept a high excess on your insurance policy and pay a lower premium.
It is advisable to at least take out third party vehicle insurance so you are covered if you run into an expensive car.  Always shop around to get the best policy and premium.  By providing the following information, you can get the best deal: the make and age of the vehicle, the sex and age of the drivers, is the vehicle alarmed and garaged, are there discounts if other policies are held with the insurance company or if it is driven only by named drivers.
When you have to sell your car, you will get a lot more for it by selling privately than by selling to a dealer.  If selling using an online auction site,  it could be worth paying for an AA inspection report and AA valuation report. These reports can be sent to prospective buyers and could result in a higher price.